You must edit the image a lot in order for it to be a manipulation. Changing color of hair, adding filter, is not manipulation. If you wish to practice airbrushing this is fine, but it must be in the photomanipulation category on deviantart. I will not allow airbrushed images to be used in magazines, book covers, posters, prints etc.
***I reserve the right to decide if the image is manipulated or only edited
Here is a little example of what I deem a manipulation and what I don't deem manipulation.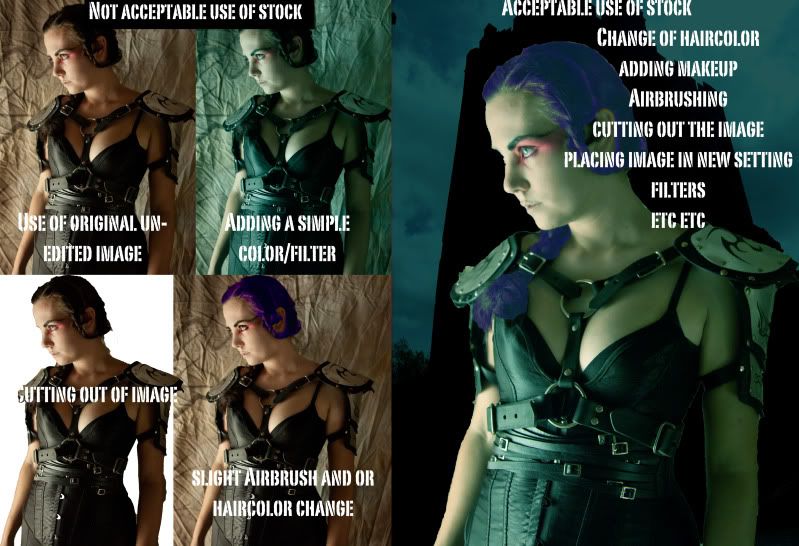 Stock TERMS of USE
RULES



Basic rules to follow!





Credit
Send link
Deviantart and redbubble prints okay
Ask for commercial use (other then prints)




Full terms of use


I HOLD the copyright to the images on this site. By downloading you agree to my rules, and understand you are licensing the images only.



YOU MUST link back to my site (in picture description)



YOU MUST either send me a note, picture comment, or comment with a link to your art



YOU HAVE my permission to submit your work as a print! No need to ask permission if prints do not exceed 1000 prints (Anything over 1000 I would like a small donation or a copy of the print/item) This is to either make me do a dance or to continue my stock site


You can use my stock outside DA as long as you make the proper credit and send me a link to where it will be used.



My stock is for non commercial use (*means not for Advertisements/profit from the original unedited image or over 1000 prints) For commercial means please contact me first. Commercial use journal here magikstock.deviantart.com/jour…



DO NOT use my stock to make other stock pictures or use them for tubing!



MY original stock images may NOT be distributed or downloaded anywhere but from here on my deviant art page or my website.



DO NOT post pictures using my stock in photography sections you did not take these so it is not your photography skills being displayed



DO NOT just change the color burn dodge make it black and white etc put some effort in it. See journal here magikstock.deviantart.com/jour…



Your free to be creative but please keep the pictures from this site with models tasteful. Please no fetish or hatful content! Please only artistic nudity other then that your free to do what you like
(artistic nudity does not include pornographic content and I will ask you to remove it)
FAQ #565: You prohibit the submission of 'pornographic imagery'; what do you consider this to be?



Be careful this is not me!!!!! Please dont send your credits to these accounts! magicstock.deviantart.com/ or this one
magickstock.deviantart.com/



MODEL RELEASE. If you need one I will be happy to send on along for you



If you want to use an image for an event/poster please contact me first

________________________



Exclusives


Exclusives have the same rules as regular stock!



Exclusives can not be used by anyone who has not purchased them for anything! NO Traditional art reference if you do not purchase them I will have your image removed!



_________________________



Commercial Use


If you would like to use the image for a book cover,CD cover etc see here magikstock.deviantart.com/jour… )



Commercial use. Please contact me first. MY Definition of commercial use here magikstock.deviantart.com/jour…



Please note using my images for commercial use does not include being published in magazines or similar awesome opportunities for you the artist. All I ask is do be notified of such publishings so I can go get a copy!



if you would like to use my images in an advertisement for your product you can purchase a license or send me a copy of the final image/item (deviantart members only, but can be negotiated)

____________________________________


I work with several costumers/etsy sellers in the advertisement of products. If you are interested in exposure for your product or images to use for your site/auctions please contact me

(this includes links to your items in my descriptions and on my front page as well as recommendations by me to individuals who ask about costumes/items)


­

IF its for anything else or you have a question please send me a message first



You can still use stock that I have deleted off my site (same rules apply)


FAQ #257: What sort of permission do I need to use someone else's work?
FAQ #157: Can I use things created by other people in my submissions?
FAQ #217: What are "Stock and Resources" and can I use them in my submissions?